Introduction
GEBHARDT Fördertechnik was founded in 1952 as a mechanical engineering company and has a long-standing experience in developing and manufacturing of system solutions for intralogistics. With this broad range of knowledge GEBHARDT can deliver everything out of one hand: from planning, design, implementation and continuous support up to an optimally integrated solution for warehouse management.
As part of GEBHARDT's digital transformation CEO Marco Gebhardt is preparing his company for the future. He calls the next generation of warehouse automation "Innovation of Things", based on the term "Internet of Things" in which physical and virtual objects are interconnected in order to allow them to work together through information and communication techniques.
We want to distinguish ourselves from our competitors with our products and services. That is why it is important for us to always think one step ahead when implementing our processes in our Digital Transformation journey"
- Marco Gebhardt, CEO GEBHARDT Fördertechnik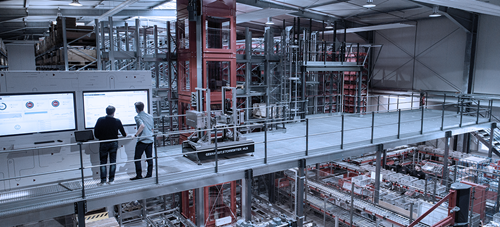 Challenge
GEBHARDT'S warehouse solutions consist of all components of a modern warehouse automation system. For example to move containers from one storage location to another in a high rack, GEBHARDT uses fast and intelligent shuttles which they call "GEBHARDT One-Level-Shuttle" or OLS.
When a shuttle is in motion, vibrations can occur due to used parts at the shuttle or at the high rack.
These vibrations are recorded with sensors CMS01 – Gebhardt own development - and then correlated with the driving parameters which come from control units. The different sources are merged with Crosser modules on the Edge and are the basis for calculating the health status of a shuttle. In addition, the data act as input for inhouse developed predictive maintenance models. This approach minimizes the risk of failure and reduces maintenance costs.
Objectives
GEBHARDT was looking for a solution to minimize or completely eliminate these maintenance costs. The aim was to detect operation anomalies caused by vibrations of the shuttle, to carry out a root cause analysis of the problem, and finally to correct it. At the same time, the innovative team at GEBHARDT wants to make use of the data to feed artificial intelligence models. The ultimate goal was to establish predictive maintenance available for all customers.
Solution
GEBHARDT'S architecture is based on the idea of processing data directly at the edge, transferring only relevant data to the back-office system or the respective cloud solution. This saves money and allows fast processing. The data is read and processed directly at the sensors. Processing steps include time series harmonization, data enrichment or data quality improvements. The automatic learning of the system takes place in a specific step of the process chain. It was important for GEBHARDT to use standard components which can be configured easily. The software components for the implementation, execution and maintenance of the processing steps are carried out with the help of the tools from Crosser: Crosser Edge Node™ and Crosser Cloud™.
We were looking for a strategic partner to quickly implement innovations and at the same time react flexibly to our requirements. The philosophy and corporate culture of Crosser and GEBHARDT match perfectly"
- Karl Denz CIO, GEBHARDT Fördertechnik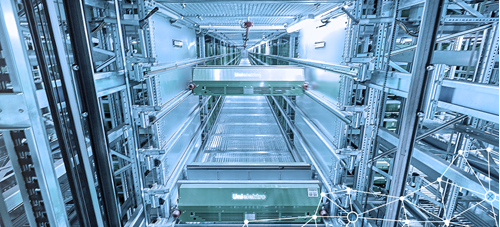 Solution Components
Data Acquisition: GEBHARDT has utilized the Crosser Edge Node™ to enable event-based real-time data communication from the shuttle for further processing. Communication protocols used but not limited to are OPC-UA, Modbus and MQTT. In addition, Siemens hardware like S7 is integrated as well. The Crosser Cloud™ has been used to configure the Crosser Edge Nodes™.
Artificial Intelligence and Machine Learning: GEBHARDT will use artificial intelligence in its warehouse automation to learn from the data collected during processing.
Predictive Maintenance: GEBHARDT takes advantage of the valuable benefits of the Crosser solution to implement predictive maintenance. Formerly demanded rigid maintenance intervals have been moved to highly flexible maintenance schedules. This increases machine availability and extends machine lifetime.
Data Visualization: The data either remains on-site or can be flexibly transferred to the customer's cloud solution. Dashboards are already preconfigured and can be used immediately.
Summary
GEBHARDT's leading logistics automation has been enriched by Crosser's innovative solution to enable data to be processed at the edge.
Data security: By processing data on site, concerns about data security can be addressed.
Latency: Time critical use cases can be implemented without the risk of processing delays caused by long data transmission between e.g. on-premise and the cloud.
Cost: In addition, preprocessing the data minimizes the interface and storage costs of cloud and back-office systems.
Implementation: Crosser's solution flexibility has a positive impact on implementation time and -cycles.